Customer Print Portals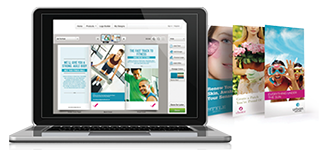 What is a customer print portal?
A customer print portal is Web-to-print storefront solution customized specifically to your company or organization's needs.
This storefront allows you the customer to log in, view your documents / print materials library, place orders and reorders, proof online immediately, send large files, request estimates and more.
Online Proofing
Reduce the proofing process by days and save hundreds of dollars per month with online proofing. In addition to streamlining workflow and eliminating the need to create and deliver expensive color proofs, online proofing makes the entire process easier on your business.
Print Materials / Document Library / Catalog
Within your print portal, we can set up a catalog or document library of print materials where you can easily reorder from a list of projects that you routinely order. For example, your companies business cards, marketing materials, training/HR materials, or envelopes and letterhead. Even your companies promotional products, like pens and t-shirts. Your print portal can also track inventory of items in stock.
Customizable Templates / Design on the Fly / One Off Orders and Custom Catalogs